The Cornerstone Story
How We Started…
Growing up in a family of animal lovers is where my journey and passion began… My parents lived all over the world and our dogs were our treasured family members, so they traveled from country to country as my Father moved for his business. Our family consisted of our parents, my sister, our grandfather, dogs, birds, bunnies, white mice and hamsters!
As I got older I began to rescue animals having a heart for those forgotten and helping them get on their feet.  I was married at that time to a special man, and we had a picture on our refrigerator, it was a dream we wanted to accomplish together, we wanted a dog, we wanted to name her Toffee…she would be our first baby, we finally saved enough money and Toffee came home with us…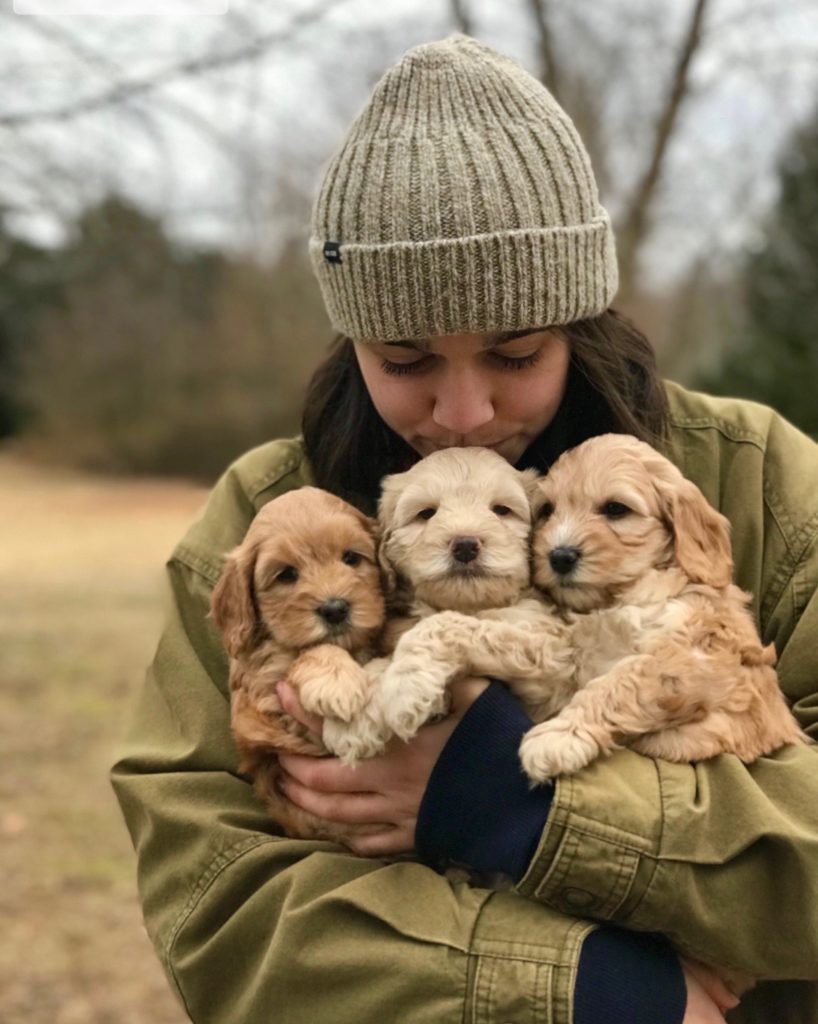 Three days after she was given to me as a gift from my husband, he was unexpectedly killed in an accident, and my 8 week old puppy Toffee and I were left to walk a most painful journey of grief alone.
While never knowing what a therapy dog was, she was that and so much more to me…. she was a big part of the healing process…a soothing balm to a broken heart, she never left my side and gave me a reason to wake up every morning, my hope is to give back to those in need….we all have grief in different forms. Toffee showed unconditional love and devotion every step of the way.
Many years later my husband today, Jim was brought into my life through a series of miracles and we began our life together with my dear Toffee…at 13 years old she developed a tumor and passed away in my arms.
Four long, long years went by for us with no dogs in our family, and we knew we would know when the time was right to open our hearts to love a dog again…a friend was sharing with me about a breed I had never heard of before…comical, devoted, loving, and non-shedding…yea, no more vacuuming, a huge bonus! I was enamored and intrigued.
It was then that I heard about Australian Labradoodles, having traveled to Australia several times with my parents growing up, it all sounded so interesting. Through a series of events, I was introduced to Pam McCarl,  she has been a mentor and friend.  I have raised puppies, for over 10 years, and it has been a journey that I have loved….to see life come into this world and take it's first breath is breath taking, humbling and to this day brings me to tears, and I hope that never changes….the utmost care, dedication and love goes into every part of what we do. There is an immense amount of purposeful thought that goes with raising every puppy.
After much prayer and encouragement began the inception of Cornerstone Australian Labradoodles.
Welcome to our world!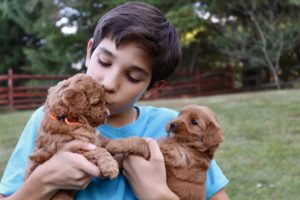 We are located on the beautiful rolling hills of Carroll County, our 5 acre estate is where we live with our children and dogs…all the outside animals tend to come to us, in the spring, we have baby bunnies, baby birds, geese in the pond and even an occasional turtle wanders up….Our puppies are born in our home, with many little hands to help…Our dogs are always ready to ride in the car and can be seen in town at games, running at the the park or relaxing in the garden chewing on a big bone from the butcher.
​
We love to hike, be outdoors, garden, cook, read, travel the world and be with our dogs!
Currently, Jim has a medical background at Johns Hopkins, and I had a background in design. Having a background in business ownership, I know what it takes to start a business, grow it, and to have the integrity to follow through correctly.
Our desire is that our dogs will be a Cornerstone in your life, they will bless you in ways you never thought possible, soothe your heart, and that you in turn will love them, all the days of their life!
​
With love and blessings,
Sonali